World's 1st Pro Four-Season Semi-auto Car Tent Unit
Lanmodo car tent is easy to install and  its open process takes 8 seconds and the total installation process only takes 30 seconds.
Designed with a folding structure, it is portable to make sure you can use it everywhere when you park your car
ANTI-UV, WATER-PROOF, ANTI-RUST
Lanmodo car tent cloth is made of 210D Oxford to be super waterproof and easy to clean up.
It lowers car temperature up to 36 degrees;undertake 350Mpa water pressure; 304 stainless steel to anti-rust.
For the rainy or stormy day, the windproof level is up to wind speed of 13 m/s
LANMODO KEEPS YOUR CAR COOL
Car interiors become hot and uncomfortable when exposed to the sun for too long, and you need to let the hot air out before you get in.

Now there is a car umbrella available that gives shade to the car while parked in the daylight!
Lanmodo car tent solves this problem because it gives shade to the entire body of the car and even protects your children from the heat.
In hot weather, Lanmodo car tent can cool down car interior temperature up to 35 ℃ / 95 ℉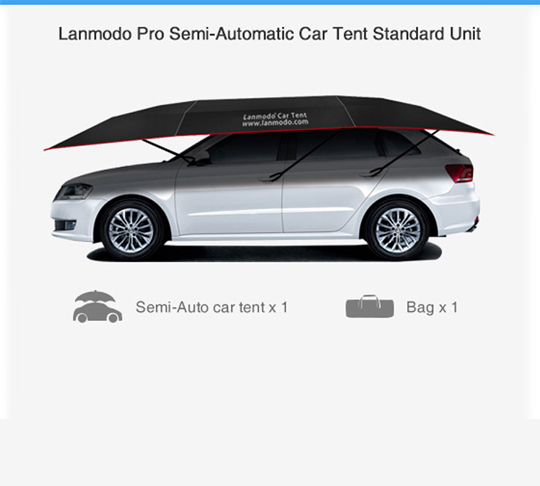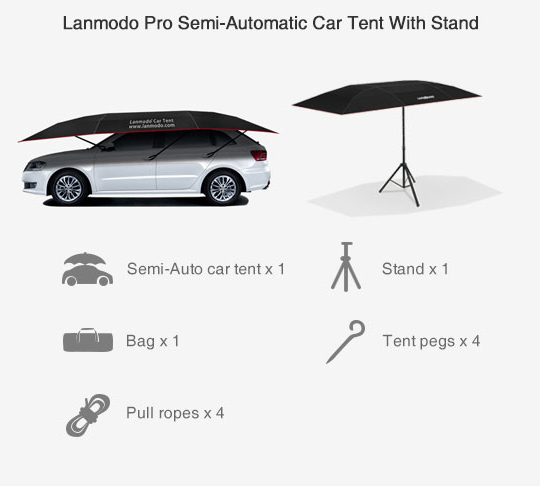 DOUBLE ANTI-THEFT, NO WORRY
Lanmodo car tent is designed with a double anti-theft system.
It is automatically opened and closed by wireless remote control so it cannot be folded and taken away.
Automatic Car Tent
Semi-Automatic Car Tent
Operation Method
Operated by remote control
Operated manually
Remote Control
Matched with one remote control
Without
Battery
Last over 5 years
No battery
Charging Time
3 hours by wall charger
5 hours by car charger
No need to charge it
Weight
6.9kg
6.4kg
Multi-function
Car Protection
Outdoor Umbrella
Camping Tent
Car Protection
Outdoor Umbrella
Product Specification
| | |
| --- | --- |
| Structure | Fiberglass & Metal |
| Fiberglass tensile strength | 6.3~6.9g/d |
| Connector | Plastic |
| Canopy | 210D Oxford cloth |
| Bearable Water Pressure | 350Mpa |
| Stand | Alloy |
| Sucker suction | 70KG+ |
| Working environment | -40°C ~ 60°C |
| Warranty | 1 Year |
| Color | Black/Navy/Silver |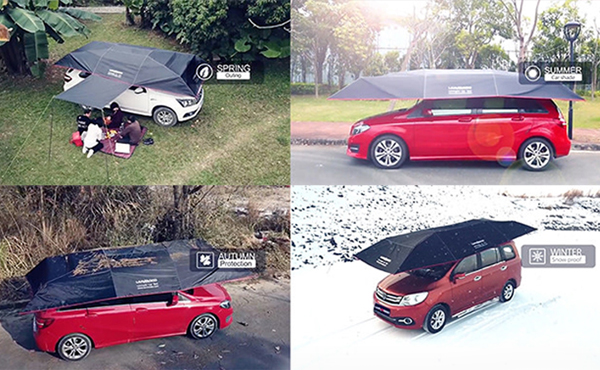 Secondly, there is an anti-theft rope with steel wires buried inside, which can not be cut easily to avoid being stolen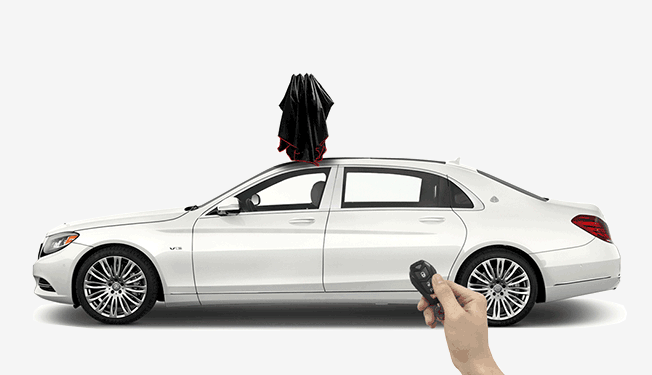 SUITABLE FOR MOST CARS 
Fit to sedan, pickup, minivan, truck, pickup, hatchback, luxury car, small car etc.;
Car tent size: 137.8*82.7inch ( 3.5M*2.1M ), make sure that can full cover your car before purchase
Three Windproof Designs Offer Better Protection
8 adjustable windproof straps to secure the car tent.
Strong suction cup sticks closely to car roof without causing dent.
Two-layer canopy allows wind to flow through the car tent to fix it.
Three Anti-theft Designs to Guarantee Safety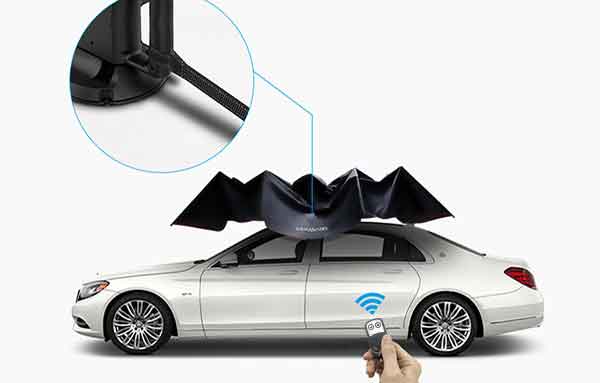 An anti-theft belt made of steel wires makes it difficult to cut off.
Without the remote control, the car tent cannot be closed and stolen.
Personalize your own car canopy so that you can recognize your car tent at first glance.
Easy to Use as an Outdoor Umbrella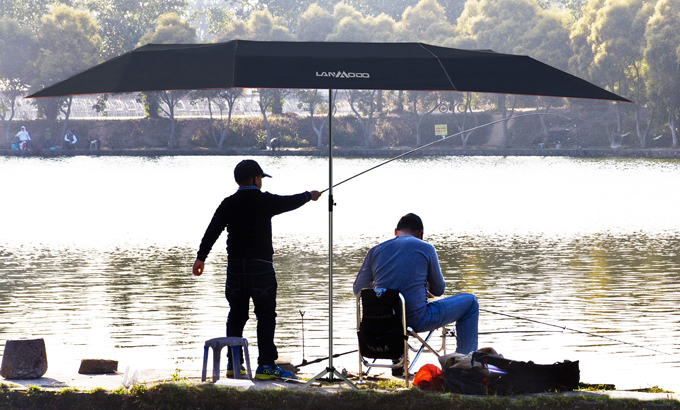 USB port to charge your electronic devices or plug in LED lights.
With a stand, going fishing during day or night is simple.
Enjoy the beautiful sea under the protection of a convenient beach umbrella.
Enrich Your Outdoor Activities With Lanmodo Pro All-In-One Car Tent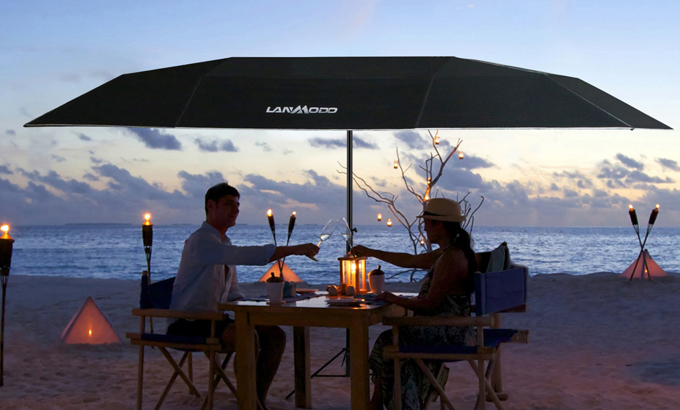 CAUTION
Don't drive when using Lanmodo car umbrella!
Please tighten the windproof straps after installing the car umbrella on roof!
No using when there is heavy hail accompanied by heavy rain or wind!
Tight up the wind-resistant ropes in case of being blown away. Please note that our car umbrella
only can withstand strong wind with speed of 25mph (40km/h).
Lanmodo car tent should be placed on smooth and hard metal and glass car roof. If you are not sure whether your car is suitable, please contact us at support@lanmodo.com.
If car umbrella is runing out of battery, please use standard car charger or wall
charger to charge it until flash red light turns to green!