FOR SAVVY TRAVELERS, TECH ENTHUSIASTS AND URBAN DAY-TRIPPERS
Modobag® is the world's first motorized, smart and connected carry-on that gets you to your destination up to three times faster than walking.
Modobag combines the convenience of a standard suitcase with the innovation of personal transportability, GPRS-GSM tracking, and dual USB charging ports to create the world's only motorized, smart and connected carry-on that gets you to your destination three times faster than the average walking speed.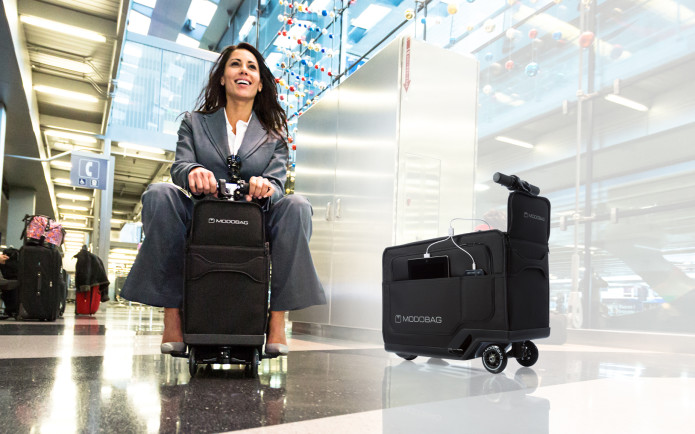 This is the most awesome piece of luggage you will ever own!
Modobag has an indoor speed of 4 MPH and an outdoor speed of 7 MPH!
Get across a college campus while riding on your books and notes!
The perfect travel companion for all ages.
TRAVEL WILL NEVER BE THE SAME!
Once Modobag becomes your travel companion life will never be the same. Now you'll have shorter commutes, always know where your belongings are, never miss tight connections, always have a fully charged phone, and never sweat (literally) catching a connecting flight! Modobag can resolve all of these everyday scheduling speed bumps that lead to a horrible travel experience and remake your day into a smooth ride. Let Modobag change the way that you travel!
Ever sat on the floor of an airport while you wait for your device to charge?
We've all been there! With Modobag, you'll never have to search for a free power outlet or seat again. Modobag can charge two devices with its dual USB ports and you'll always have a comfortable padded seat!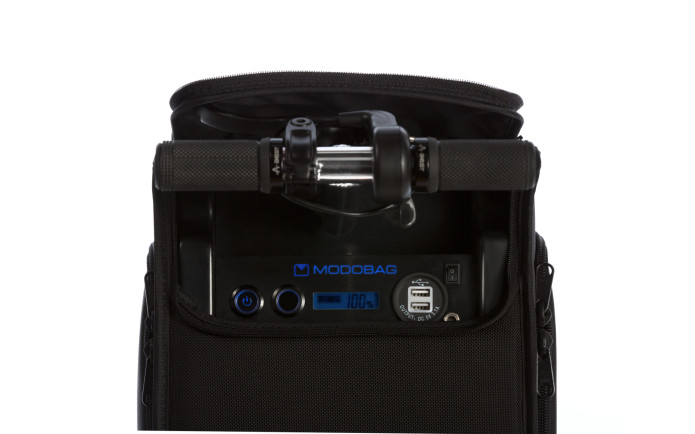 QUICK STOW POCKETS
Modobag contains quick stow pockets for your laptop, phone and tablet. Easy access and secure charging while on-the-go!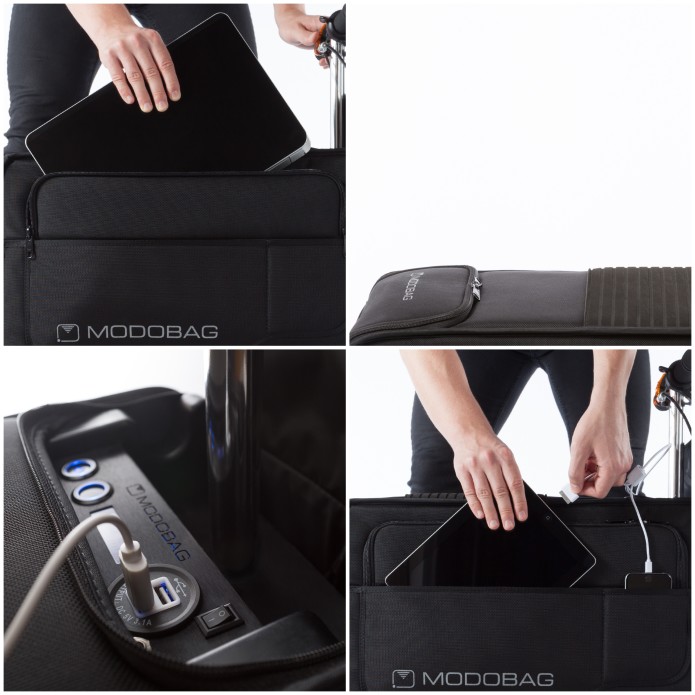 Mechanical Features and Specifications
Motor – Belt Driven, Maintenance-Free, High Torque 150 Watt Electric
Indoor Speed – 4 MPH
Outdoor Speed – 7 MPH
Speed Control – Indoor and Outdoor Settings
Thumb Action Throttle
State-of-the-Art Lightweight Lithium Batteries
Range – 6+ Miles (based on 180 lb rider)
80% charge in 15 minutes
Battery Life – over 4,000 full charge cycles
UL approved Smart Charger
Dual Wheel Braking System
High Performance CNC-Machined, Sealed-Bearing Steering Column
Telescoping Aluminum Handlebar Assembly
App Features
GPRS-GSM Real-Time Tracking
Proximity Alert
Exterior Features
High Strength US made Dupont Ballistic Nylon Shell
CAD-Designed, Lightweight Aluminum Chassis
Ergonomically-Designed Modobag Foot Rests
Extendable Towing Handle
Stowing/Lift Handles (Front/Rear Mounted)
Durable YKK Zippers
Side Mounted Pockets – 8″x11.5″ for tablets, 5″x6″ for phones
Protected easy-access laptop pocket
Interior Features
Illuminated Dual USB Charging Ports
Illuminated Power & LED Light Controls
Digital Battery Capacity Gauge
Dimensions
22″ Long X 9″ Wide X 14″ Tall
2000 Cubic Inches Interior Stowing Capacity
Weight
Bag Weight – 20 lbs*
Max Rider Weight – 260 lbs
Wheels
Custom High-Performance Urethane Wheels
High-Performance sealed Bearings throughout

Charge on the go!
Modobag's US Patented  battery can reach 80% charge in 15 minutes and full charge 2 hour. The included Modobag charger can be plugged into any standard US outlet,  International outlets may require an adapter.
Our Lithium batteries are compliant with the air travel regulations  for the UN, TSA, FAA and IATA and use the latest patented nano-crystal technology.
Modobag's batteries are rated for over 4000 charge and discharge cycles.

Over 30 million bags are misplaced while traveling every year!
The optional Modobag Mobile App will allow you to use the GPRS-GSM, Tracking, and Proximity features on your phone so you will always know where your belongings are, even if it's in an airport basement! It is a highly recommended option and comes with one free year of service!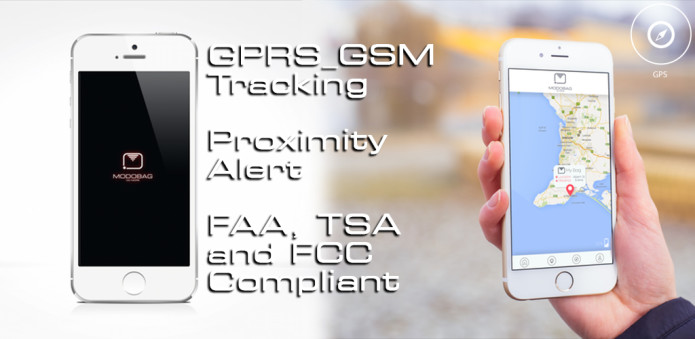 How much does the Modobag weigh?  An empty Modobag weighs 20lbs* (9.07kg)
What are the dimensions of the Modobag?The dimensions of the Modobag are 22×56×35 cm (9×22×14 inch)
What type of battery does Modobag have?Modobag uses UN, TSA, and FAA compliant, state of the art Lithium batteries with the latest patented nano-crystal technology.Modobag's US Patented  battery can reach 80% charge in 15 minutes and full charge in less than 1 hour.The batteries are separate enclosed units that pass all United Nation requirements for lithium batteries (the strictest on the planet), while also being protected in their own compartment for safety. Over 4000 charge and discharge cycles, compared to typical batteries, which run approximately 1500 cycles.
What type of wheels does the Modobag have?Modobag has Custom High-Performance Urethane wheels to ensure smooth transport via motor or pull-behind options. We have also incorporated high-Performance sealed Bearings throughout
What type of motor does the Modobag have?A belt driven, maintenance-free, high torque, 150 watt electric motor.
What is the recommended maximum weight limit?The maximum recommended weight limit is 260 lbs (118 kg).
How do I charge the battery?Modobag can be plugged into any regular US outlet. International may require an adapter.
How does the electrical device charger work?Modobag has installed a double USB port to charge compatible electrical devices.
Has Modobag been approved by all necessary flight authorities?Modobag is compliant with Transportation Security Administration (TSA), Federal Aviation Administration (FAA), United Nations (UN), and International Air Transportation Association (IATA) guidelines.
What types of foot pegs are equipped on Modobag?The foot pegs are professional motorcycle grade pegs. They are 2" long while providing excellent grip and are deployed by hand.
How long does it take to fully charge the battery?A full Modobag charge will take less than 2 hours.
What types of wheels are on the Modobag?We chose to use custom wheels with technology pulled from the roller blade and skate board industries ensuring a smooth ride.High-Performance sealed Bearings throughout
Why ABS plastic?
ABS is some of the most durable plastic used in the automotive and luggage industry. It has exceptional wear and durability properties.
Does Modobag have different speeds?Yes, Modobag has both an outdoor and indoor speed setting.
What type of USB charges are equipped on the Modobag?Modobag has two built in USB ports.
What type of brakes does the Modobag have?The brakes are lever-activated cable brakes with dual pads.
What is the Modobag top speed?Top speed is limited to 7 mph on a flat surface.
What is the Modobag indoor speed?Approximately 4 mph on a flat surface.
What is the Modobag shell made of?DuPont 600d ballistic nylon.
What is the Modobag frame made of?100% Recyclable aircraft-grade aluminum alloy.
Why YKK zippers?YKK zippers are some of the highest quality zippers in the world.
What distanced can be achieved on a fully charged Modobag?Based on an 180lb or 82kg rider on smooth terrain with a full charge, Modobag will travel 6+ miles.
For how long do the batteries last?The Modobag batteries have the capacity for over 4000 full charges.
Can Modobag be brought on board all domestic and international flights?Modobag is compliant for carry-on with most major carriers. We designed the bag to be compatible with over 80% of the major carriers. If you cannot carry it on due to certain airline size or weight restrictions – you can always check it.
Can Modobag ride on all surfaces?Modobag was intended for flat (preferably) smooth surfaces and is not intended for grass, gravel, or dirt.
Can I use Modobag without electronic assistance?Modobag is meant to be a fully functional drag-along suitcase as well as a mode of transport, so feel free to change it over if you prefer to walk with it behind you.
Will there be a line of accessories to add to Modobag?We are currently researching accessories, colors, and other options for Modobag in the future but the current options are the ones offered on the Indiegogo model.
How do the batteries cope with cold weather (frost)?The batteries are rated to perform to temperatures as cold as -27 F (and as warm as 170 F).
What is the Modobag mobile app?The Modobag Mobile App will allow you to use the GPRS-GSM, Tracking, and Proximity features on your phone so you will always know where your Modobag is.