This Robot Suitcase Follows You Around and Answers Voice Commands
With your smartphone as its hub, the suitcase uses artificial intelligence and an array of sensors to follow you while avoiding obstacles.
It moves both upright or flat on its side, like an oversized Roomba, and unless you're Usain Bolt, its max speed of 6.75 miles per hour will have no trouble keeping up with you.
The robot also responds to voice commands ("Stop!") or simple hand gestures (a promotional video shows the suitcase pirouetting in response to a hand-spinning motion).
Along with the digital weight system and device-charging capabilities we've come to expect from next-generation suitcases, Travelmate cases also lock and unlock using a fingerprint in addition to a conventional, TSA-compliant locking mechanism.
This stylish hard case autonomous suitcase robot by Travelmate Robotics brings the future to travel.
It comes in 3 colors, pink, blue, and black, and the small size is perfect for carrying on luggage.
It follows you around and is fully autonomous, freeing your hands up while you travel.
This suitcase robot is Bluetooth 4.1 low energy, allowing for a consistent connection while being long-lasting.
It also has a secure TSA standard Bluetooth enabled lock to keep all of your luggage secure.  In addition to the lock, the suitcase comes with a removable GPS chip that will help you keep track of everything in it at all times.
If you are in danger of over packing, the Travelmate comes with a scale that accurately measures the weight of your luggage.
You'll never over pack again!
Since Travelmate is autonomous, you can even use it as an impromptu security guard.
If you attach a camera to it, you can leave it to patrol your home even when you're not there.
There is endless potential to implement more features like this and that's why we call Travelmate a robot companion.
We've included a mount in all Travelmate suitcases which will allow you to attach cameras or virtual reality ready cameras to the suitcase.
Because of this, you can use the Travelmate as your camera operator. This is perfect for video blogging or for recording yourself and your surroundings.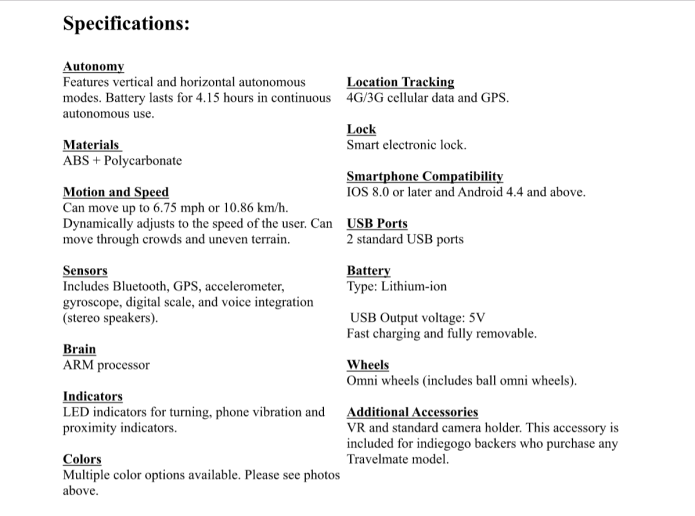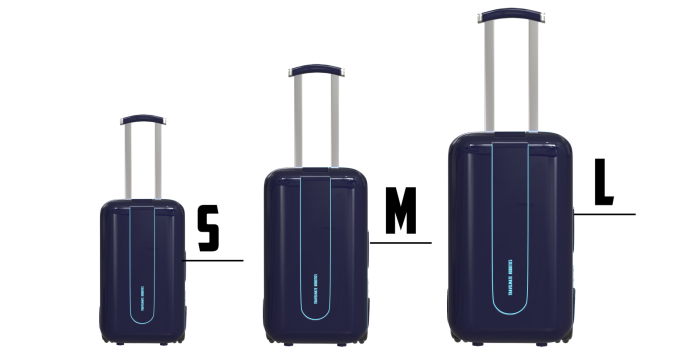 Currently, we're planning on releasing three different models, which essentially differ only in terms of size.
You'll also be able to customize the color of your suitcase. Since this suitcase is your travel mate, you can name it through the Travelmate app and it'll show up on the suitcase's display.
– Travelmate S: The best carry on suitcase ever.
The S model is perfect for any situation and is sized to comply with all carry on specifications. This means that you can take it with you when you board a plane instead of checking it at the airline's kiosk.
Dimensions:
Inches: 21.7 x 7.9 x 15.7
Centimeters: 55 x 20 x 40
– Travelmate M: medium sized and perfect for traveling.
The aptly named M model is medium sized and is great for road trips, flights and every day situations. It's a jack of all trades and is great for most vacations.
Dimensions:
Inches: 27.2 x 11.4 x 19.3
Centimeters: 69 x 29 x 49
– Travelmate L: Large and unapologetic about it.
The L model is the largest model that we have. It's perfect if you're planning on a long trip or even for moving. If you can't decide on what to take with you, then why not take it all with the L model?
Dimensions:
Inches: 29.5 x 12.2 x 20.5
Centimeters: 75 x 31 x 52