The world's first write and erase robot.
Imagine if you could reconfigure your walls every day..
Scribit is a vertical plotter that can draw any content sourced from the web – and update it in real time.
Turn any wall into an interactive canvas.
Bring your wall to life, with Scribit. It works on any vertical surface.
CREATED BY MIT PROFESSOR CARLO RATTI, SCRIBIT IS a small "writing robot" that can draw images and text on any vertical surface.
What if you could instantly turn your office or living room wall into a canvas for digital content, and update it in real time?
A restaurant can post the day's menu on its wall, professionals can support their focus by writing new motivational sentences every day, or someone who loves art can draw on a Van Gogh — or their own drawings – onto their bedroom wall.
Scribit is also an amazing way to entertain the attendees of a live event. 
A vertical surface, a socket and an Internet connection. That's all you need to use Scribit
Scribit can operate between 4 colours combinations.
Along with Scribit you'll receive 24 default colours: replacements are easy to come by on the market for a price between $7 and $15 for a set of 12 colours.
The 4 default colours are Red, Yellow, Blue and Black (the Primary colours).
Thanks to a special patented technology, Scribit can safely draw, erase and re-draw new content an infinite number of times, allowing you to print a different image on your wall every few minutes.
How does this work?
The little pod highlighted above can heat up to 149 F°. As simple as that: it will run across the design and the ink of the marker will evaporate little by little.
Scribit uses 2 wheels to climb (almost) any type of vertical surface.  Whiteboards, glass and standard plaster are the surfaces we recommend to obtain the highest quality drawings.
A crush on flowers on glass…
Easy enough for everyone. Cool enough to entertain your friends.
The Scribit App is designed to allow you to seamlessly browse through a sea of content from Artists, Illustrators and developers, anywhere in the Web.
It's a unique way to interact with your friends by sharing drawings, fun facts or notes that can appear on your wall in just a few minutes.
You can receive updates or news about your favorite topics, or other practical information such as weather forecasts or grocery lists, without having to look at your mobile phone.
Scribit will offer users access to a broad range of digital content structured around mini Apps.
In this global marketplace, people, businesses or institutions – from artists, to museums, to media organisations – can develop and upload any type of content.
 You might draw on masterpieces from the best museums of New York, Paris or Tokyo, or discover the latest works by emerging artists.
Developing more and more integrations between Scribit, other Apps and AI systems like Alexa, Google and Siri.
By using your PC or laptop you'll be able to download, create or modify through your favorite design software any content you like.
When you're ready, you'll send it to Scribit via Web browser (like Chrome or FireFox) with one of the extensions above.
Yes, Scribit is a robot. It is 6.6 inch x 3.15 inch in dimension and covered in aluminum on the outer part.The core of its technology is a rotative engine that allows to be in writing or stand-by position, beside changing color when the drawing requires it.
Scribit's ear-like structure are actually wheels that allow it to climb walls.
It's quite small, but big enough to be noticed when in action.
The LED strip on the top is Scribit's way to communicate with you. According to the color of the light and if it'll be pulsing or flashing, you'll be able to understand whether Scribit is busy, resting or loading a new drawing.
"We are totally deluged with information, and spend too much of our non-sleeping time in front of one form or another of digital screen – TV, desktop computer, laptop, tablet or phone."
Scribit Calibration
Scribit Calibration is an important procedure that should be done after installing the robot, it affects the accuracy of Scribit on the selected surface. 
The goal of the Calibration is to place Scribit at its Zero Point, which is the point where any drawing and erasing will start from.
Read more to understand the pros and cons of both calibration methods.
Manual Calibration
You can calibrate your Scribit manually after marking the point zero by adjusting the pulleys and place the robot on that mark.
Pros: The manual calibration gives you more accuracy and the ability to check if your Scribit is set up correctly, the more precise you are the better results you will get.

Cons: Finding point zero manually will make you rotate the wheels using your hands.
Automatic Calibration
The automatic calibration is a feature that given a specific pattern and some measures to find the initial point, after installing Scribit on a surface, the user can choose this option and Scribit will calculate the area and find the point zero automatically.
Pros:  Asimple click without physical effort and Scribit will find its home point.

Cons: The accuracy rate of this feature is not 100% guaranteed since this depends on many factors, including installation specifications and the user's surface. 
In order to upload your design, go on https://create.scribit.design/
1) Log in to your account
Make sure to use the same credentials you used to sign in the app.
2) Upload a new SVG
Simply click on upload a new SVG and if you have any issue generating your SVG file, please watch this video: how to generate SVG for Scribit.
3) Download the template
Download the zip file so you can have a clear understanding of how we make our SVG.
4) Successful upload
Our system will analyze your drawing and the boxes will be checked in case the SVG file matches the requirements mentioned above. 
5) Find your drawing in the app
Go to the app and press on "uploaded", after that, select your drawing and send it to Scribit
Erasing Process
A note of significant importance: only Scribit Original Plaster Markers are extensively tested for and guarantee the Scribit erasing function.
Erasing feature is not possible on glass and on whiteboard surfaces.
You can start the Erasing process via the Scribit App upon completion of a drawing:
1) Open the Scribit App;
2) Tap on the Scribit Icon at the bottom of the dashboard to open the Scribit Player;
3) Tap on the Erasing Icon at the bottom right of the screen;
4) Scribit will then start erasing the drawing.
Scribit can erase any design (images, text, selfies) ONLY upon its completion. You can close the app, still after opening it again, you will be able to erase the last drawing performed. If you turn off Scribit, it will forget the last drawing and it will not be able to initiate the erasing process. Erasing can be done remotely – even if you are not in proximity to the drawing surface.
Please be aware that if you place your Scribit somewhere else or you send another drawing to it, the robot won't be able to erase all the previous drawings, but just the very last one.
DO NOT touch Scribit while it is erasing: during the process Scribit will reach and exceed the temperature of 60°C/140°F.
Successful erasing is closely related to a strict and correct Scribit installation. If your first drawing doesn't get a proper erasing, don't be alarmed – this is often related to a non accurate first Scribit installation. With your future drawings erasing will be a lot more efficient as Scribit would know more about its zero position.
Since erasing is based on high temperature, please have in mind that successful erasing is dependent on your environment temperature. Your optimal indoor temperature for the process should be in the range 21°C-25°C (70°F-77°F). Should the room temperature is lower than 20°C (70°F) the erasing is anticipated to be less effective – some parts of your drawing would often need a finalizing manual erasing.
A damp cloth will erase the drawing from your wall even faster, but please be aware that this could damage the wall if the wall paint is not washable.
The magic about Scribit Original Plaster Marker is related to their thermosensitive ink.
That is why you should never allow exposure of your Scribit markers to extreme temperatures (-10°C; +50°C). In particular, never leave them on the direct sunlight or inside Scribit during the erasing process.
The average speed of Scribit is 16mm per second.
The speed of Scribit actually depends on many factors: the complexity of a drawing, the position of Scribit within the Drawing Area and the overall size of the drawing.
When you look at Scribit at work, you will notice that speed varies: Scribit moves faster in the upside of the installation area and when climbing up the wall, whilst it moves slower when operating on the lower side of the Drawing Area and moving downward.
My Scribit Plaster Markers are drawing faint: what can I do?
As you pull them out of the package, you may experience that your Scribit Plaster Markers are not drawing as dense and bright as you would expect.

Here's a quick guide on how to solve this!
Why does this happen? 
The ink inside the Scribit Plaster Markers is a special chemical formula that is designed to turn transparent when it passes a certain temperature. Like every little magic, it comes with a price: if the inkis not activated for a long period of time, it temporarily loses some of its vividness and brightness.
This might happen when your first Scribit – or your 48 Plaster Marker Pack – arrives at your door after having traveled around the world.
What to do to avoid it?

First of all, you need to make sure to always put the cap on your markers and bring them back in the box after finishing with a drawing: this will prevent the pens from drying out. Please mind the perfect long-time position is to keep them horizontal inside the box far from any possible indoor heat, but if you will put them with the head down for 48 hours after a drawing, their visibility will increase.

What to do when this happens?

If you notice that your drawing is not as bright as it should, then you have to reactivate your Scribit Plaster Markers by shaking them until you see the tip being completely impregnated with ink.
VIDEO > Insert the marker and launch!
The other typologies of Scribit Markers have different chemical formulas and shouldn't require this re-activation.
Please mind as strong vividness and brightness of the colors is anyway not achievable with this special ink technology. If for example, you're looking for an intense black coming for a standard black permanent marker, you should consider turning your standard plaster wall into a whiteboard surface thanks to dry-erase paint. In this case, our Scribit Original Whiteboard Markers are what you should look for.
How to get the brightest colors?
– In order to get a drawing with high color density, the upper part of the robot should be inclined to the wall so the markers could make full contact and draw the printings much brighter.
If you possess a dry erase surface we recommend you to try this painting since we have been experiencing a great performance by using this brand: https://ideapaintglobal.com/collections/dry-erase-paint
Which type of cartridge/markers do Scribit support?
In the videos you see, Scribit is using a set of customized Scribit Erasable Markers. Once with you, your Scribit will be equipped with 12 of these markers.
Where can I find replacement cartridges/markers?
You will be able to buy the Scribit Erasable Markers online on the Scribit website. Other compatible markers are available in stores or online as well, but they are not under Scribit direct control, thus we are not responsible for the quality of their performance.
How many colored markers are inside the box?
12.
What size of markers does Scribit support?
Scribit is designed to work with Scribit Erasable Markers, but it can as well operate with any markers within the following size range: Max diameter compatible markers: 0.57inches (14,5mm) Min diameter compatible markers: 0.43inches (11mm)
What type of ink is used by Scribit?
In the videos you see, Scribit is working with the Scribit Erasable Markers' ink. You can use it with any ink, but that will affect the ability of Scribit to erase the drawings.
How long does it take to make a drawing?
This is dependent on the complexity of the drawing. To draw all the outlines of 6 lines of text, Scribit may take up to 25-30 minutes, while drawing a flower or the outlines of a portrait would take less than 5 minutes. A simple sentence 1mx1m will take 2 to 10 minutes, while a 1mx1m detailed portrait with multiple colors could take up to 2 hours.
Does the ink smear when touched?
Yes, it does. If you run your finger on the default ink (Scribit Erasable Markers), the drawing will be smeared. This happens even more in Scribit Original Whiteboard and Glass Marker.
Will drawings degrade over time?
After 2-3 weeks, the quality of the drawing could be less impactful: no problem, just redraw the art on top!
What is the lifetime of a drawing?
It is virtually infinite, naturally, the quality might decrease over time.
Can drawings be permanent?
If you replace the Scribit Erasable Markers with other compatible markers, you can easily obtain permanent drawings.
How many drawings can I do with a set of markers?
It really depends on the type of markers and the type of ink they use, and the complexity of the design. Using one set of Scribit Erasable Markers (12 in a pack), you will be able to draw up to 10 different drawings.
Can Scribit draw blocks of color?
Scribit can make any drawing except for actual shades – it can replicate them by making little dots with different distance. On the other hand, Scribit is fully able to draw solid areas in the same way as we would do with our hands: back and forth until it is filled up!
Can you pause a drawing to change a marker?
Yes, you will be able to do it through the Scribit App.
Can I erase a drawing after a few days?
Yes, of course, you can. The drawing will stay on the wall until you erase it, either with Scribit or with a wet cloth.
Can Scribit work with chalk/liquid chalk pens/dry erase markers?
Yes, Scribit can work with any marker within the following size range: Max diameter compatible markers: 0.57inches (14,5mm) Min diameter compatible markers: 0.43inches (11mm).
When Scribit finishes a drawing, can it be moved away from it, so it does not take from the aesthetic value of the image?
Yes, you can preset it to stay away from the drawing area. Alternatively, you can remove the robot from the wall and reinstall it when you need to.
Is it possible to make drawings with maybe 10 or 15 colors by manually changing pens?
Yes, you will be able to set which colors you have loaded each time and redraw on existing drawings: this way you can achieve images with the number of colors you wish, with no limits theoretically!
When will I be able to buy more markers?
You can purchase them on the Scribit Shop here.
What size surface can Scribit draw on?
Scribit can easily draw on a surface which is 2m wide, as long as it is at least 2 meter tall (the drawing area will start 50 cm below the superior edge).
How does Scribit erase its drawings?
Scribit has a little pod incorporated, which heats up to (149°F) 65°C. With the robot running across the design, the ink steadily disappears.
How big is the drawing area?
The maximum covered drawing area is currently 6'7″  x 6'5″ (2 meters x 2 meters, with 4 m distance between the nails).
What type of surfaces can Scribit work on?
Scribit can draw on any vertical surface: standard plaster, whiteboards, and glass are the perfect surfaces for Scribit. It can also draw on Cinder Block walls, depending on how thick the mortar lines are.
What type of paint can Scribit draw on?
Scribit can draw on any vertical surface which has a texture that is smooth enough for the tip of the marker to follow it, without big drops where the tip would lose contact.
Can Scribit work on canvas/paper?
Theoretically, Scribit can work on all smooth surfaces. On paper and canvas, it works perfectly as well, but these are not the surfaces it has been primarily designed for.
Can Scribit operate on a curved wall?
Regretfully no.
Will Scribit allow me to stitch multiple drawings together so that I can draw on a bigger area than 6'7″ x 6'7″ (2m x 2m)?
Theoretically, you will be able to compile as many drawings as you want. The difficulty will be to align them perfectly: as of now, Scribit's software does not support that specific feature. However, we will be working on it!
Is it possible for Scribit to erase part of the drawing but leave the rest?
Currently, this is not possible by using the default erasing function of Scribit. However, there is always the option to use a wet rag/sponge to erase the part you want to get rid of and leave the rest of the drawing.
Can Scribit be moved from one wall to another?
Sure thing, Scribit can be installed in 5 minutes on a wall and then be moved to another wall. The only precondition that you will need to make sure is satisfied, is the type of surface that you will use Scribit on (see other FAQ).
Can Scribit be mounted with anything less permanent than nails?
Yes, this is possible. For simplicity purposes, the standard Scribit kit is designed to be used with 2 nails. However, you can be quite creative in this respect, as long as you triple check that Scribit is stable and safe: for the mounting you can use command strips, suction cups, etc.
Do I have to measure the distance between the 2 nails?
Yes, the first time you use Scribit you will need to input the distance between the 2 nails and the floor.
Will Scribit work on painted walls?
Of course, Scribit can work on any wall, except for "tough" textures. Water paint is perfect!
Will Scribit completely erase the marker/color, or will there be a buildup of "erased marker" on the wall?
The paint will evaporate during the erase phase, however, after numerous uses, it is recommendable that you use a wet rag/sponge to manually clean the wall.
Are there other ways to erase the marker from the wall?
Hair Dryer, wet rag/sponge.
Is it possible to convert images from the Internet or taken by a smartphone into a drawing by Scribit?
With the first version of the App, you will be able to choose among hundreds of pre-loaded drawings, write text and instruct Scribit to draw your selfie.
You can also upload your personal designs from the platform you can find at upload.scribit.design.
Can I upload my personal designs to Scribit?
Yes you can. To do so, go on upload.scribit.design and login with your credentials.
You will then be able to upload SVG files which will be instantly visualized in the Scribit app, under the section "Uploaded". Make sure you downloaded the latest version of the Scribit app.
What kind of image formats can Scribit use?
Scribit's software will allow you to import the following file formats: .svg, .png, .ai, .jpeg.
All the files will be converted to an SVG, which is the file format that Scribit will process. If you upload directly an SVG, your design will not undergo conversion.
Is there a catalog of images?
We have a catalog of 100+ images (and steadily growing) by artists from all over the world. You can choose from different categories, styles and special content directly from the App.
How is the picture being sent from the App to the robot? Do I need to have Wi-Fi for Scribit to work?
Scribit works using Wi-Fi: the first time you connect it to the same Wi-Fi network, your smartphone will see it and pair with it through the Scribit App. Starting from that moment, you will have full control of everything that Scribit will do.
Scribit needs Wi-Fi to communicate to our server and enable features like "Your Scribit account", "Connect your Scribit", browsing images, widgets, Scribit's settings and Over the Air Software updates.
How many Scribit robots I can use per account; How many users can access one Scribit robot?
You can have many devices associated with one account only, but you can not have multiple users for one Scribit.
Will the App mobile allows for layering of images, where more than 4 colors are needed in the same image?
We are willing to consider this option, to be implemented in future releases
Safety & Others
Will Scribit be safe to touch when heated, how long until Scribit cools down?
You should not touch Scribit while heated, although the device itself would not be hot, only the heater part will be.
It would take less than 5 mins for it to cool down to normal temperature in free air when drawing on a wall and around 4 – on a mirror.
What is the warranty of Scribit?
You can find the Warranty and Return Policy-related information in our Terms of Sales.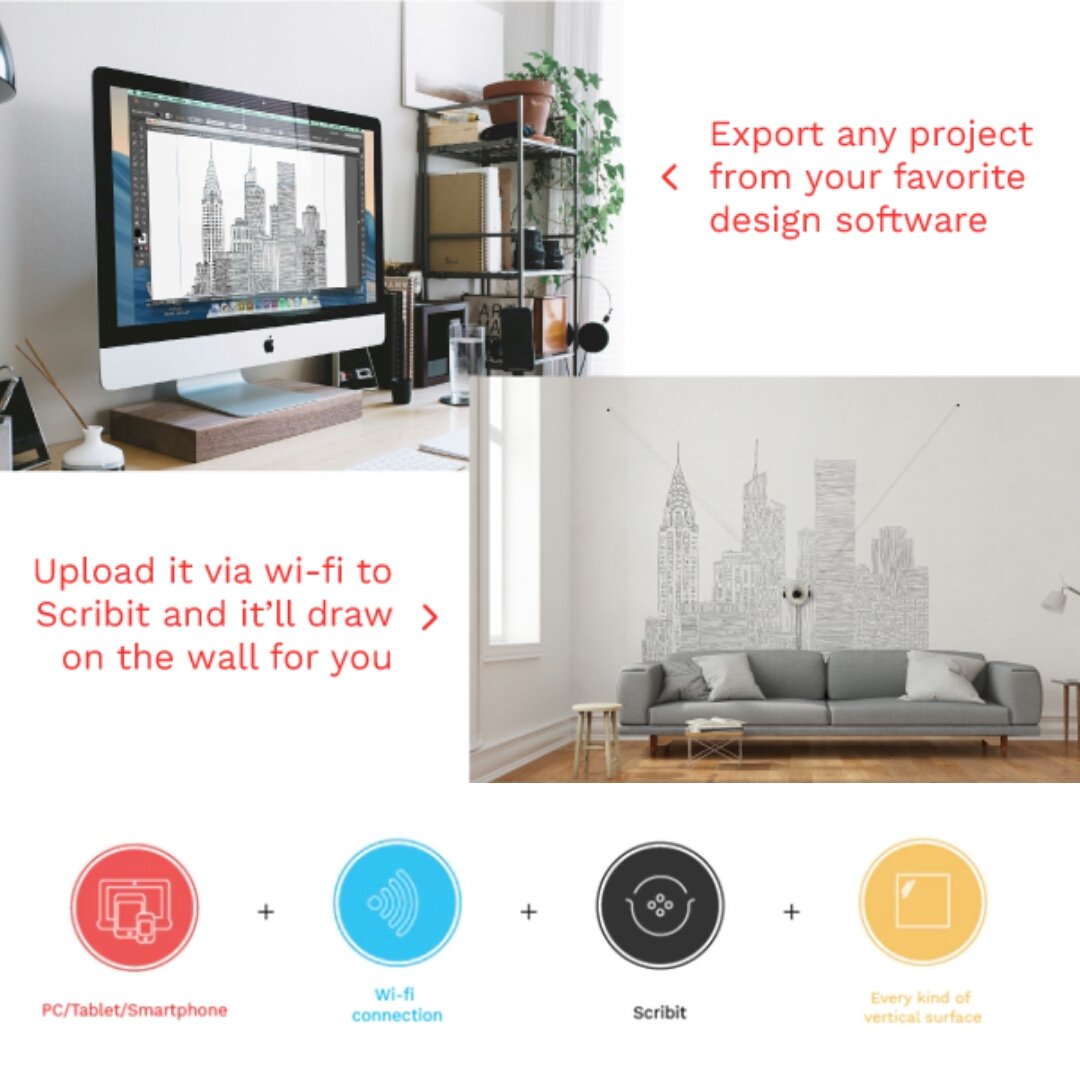 What is the voltage requirement for Scribit?
Scribit will come with standard AC converters: Input 100V-240V, 50-60 Hz 2A; Output: 12V, 3A.
Will Scribit be delivered with international power plugs included?
Scribit will be delivered with a power plug compatible with the local market.